É de pequenino que se torce o pepino, imaginem quando tiver mais idade...
It is little that twists the cucumber, imagine when you're older ... (?!?!?)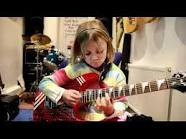 http://www.youtube.com/watch?v=B0z10vQ-RD0&feature=related
Why Should We Let Kids Bake Cookies?
Letting kids bake cookies is only natural because they are loyal supporters of these yummy treats. Besides, cookies are the easiest of all baked goods to prepare, and kids learn so many practical lessons by making them.
•Baking is an ideal exercise in time management, organization, responsibility. Speaking from experience, cookies bake quickly and will burn miserably if a baker neglects to watch his/her oven and its temperature. Good organization reduces preparation time and makes cleaning up a breeze.
•School aged children, especially those in elementary and middle schools, are comfortable with concrete ideas, situations, or examples. Therefore, letting your kids bake cookies is an effective way for them to familiarize with basic mathematical concepts such as fractions, conversion, measurement, etc.

•When kids bake, they have less time to passively watch television. Baking cookies is a constructive and proactive way for them to socialize.

•Baking together teaches kids the value of teamwork. The ultimate reward is sweetest and most delicious when everyone participates and shares the work equally.

•Baking encourages creativity and gives kids a real sense of accomplishment. When kids bake pressed or spritz cookies, wafer cookies, even rolled or cut-out cookies, they have fun and develop manual dexterity at the same time.
Homemade Animal Cookies
When making these animal cookies, you need cookie cutters or templates of your favorite animals. If you don't own any ready-made animal shaped cutters, feel free to let your imagination and artistic talent guide you in making your own animal templates.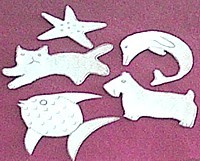 The next step is to gather the following ingredients:
All purpose flour 2 cups
Baking powder 1 tsp
Salt ½ tsp
Ground cinnamon ½ tsp
Granulated sugar ½ cup
Brown sugar, packed ½ cup
Unsalted butter, softened ½ cup or 1 stick
Vanilla extract 1 tsp 
Egg 1 large

•Preheat oven to 350 degrees Fahrenheit, and line cookie sheets with parchment paper.
•Combine flour, baking powder, salt, and ground cinnamon together thoroughly. Set the mixture aside for later use.

•Cream softened butter until light, then add sugars (both granulated and brown). Continue creaming at medium speed until the mixture is fluffy.

•Add egg and vanilla extract. Mix thoroughly.

•Add the flour mixture. Mix until just combined. At this point, if dough is too soft to handle, cover and refrigerate it for 2 hours or until firm.
•When you are ready to bake, roll dough out to about ¼-inch thick. Use cookie cutters or templates to cut out your favorite animals.
•Bake for about 10 minutes or until cookie edges are golden brown. Transfer animal cookies to wire racks to cool.

Bom apetite!